When it comes to purchasing a new mattress, the choices can seem endless, and they kind of are.
With so many manufacturers and so many mattresses, how can one decide what company has the best mattress for you?
Let's explore some of the reasons that these 10 mattress brands are so popular and sell so many mattresses.
When you are looking to make a major purchase like a mattress you will want to consider a few things before you buy like:
1. Brand Reputation
Are they a company with decades of a reputation for their products, or are they one of the newcomers? Either way, the company reputation can mean a lot when purchasing a new mattress. Even if a company is a new kid on the block the customer service, quality of their product and how satisfied their customers are with their products can put a newcomer ahead of some older more established brands.
2. How Long Have They Been Manufacturing Mattresses?
This may not be a huge consideration when you are looking to purchase a new mattress, as some of the newer manufacturers are letting new technology help boost them to the forefront of brand recognition in mattresses.
The newer materials used in some of today's mattresses allow for smaller companies to produce some great products, and without having to have brick and mortar retail storefronts to sell their products, they can spend more on the quality of manufacturing the mattress.
3. What Type of Selection Do They Offer?
To some, this may be more of a significance than to others. If you are looking for a king sized bed, but the manufacturer only makes their mattresses in a queen size, then they are not the company you need.
Now others may want a large variety of the same size mattress to choose from, and this again may eliminate some of the newer manufacturers that only offer a couple of mattresses and only in one size.
However, for some the what seems like endless styles, colors, and overall variety may seem overwhelming, and they seek simplicity with a new brand.
4. What Kind of Warranty is Offered?
This can sway a customer that is on the fence about which mattress to decide upon. Purchasing a new mattress of any size is a bit of an investment, and no one wants to waste money. Having a warranty that will help protect your investment may sway your decision between brands.
5. How Do You Purchase the Mattress?
This was never a consideration in the recent past but with the new technology comes new ways to deliver products. Some of the newer mattresses can be shipped directly to your door, and eliminate the need for you to leave your home to purchase your new mattress.
Some of the newest and most popular brands have relied on this ability to forge their place in a market that for decades seemed to be dominated by a few large well-established name brands.
With these things considered here are our choices.
---
Top 10 Best Mattress Brands for 2020
Sealy has over 130 years of experience in the mattress making business. They are made in the U.S.A.and have sold over 100 million mattresses. They offer patented time tested technology with their posturpedic innovation and continue to forge this technology ahead.
They offer multiple selections of mattress products and have even created a new line that bears their logo that can be delivered to your door.
Pros
A long history of quality
They offer a 10-year warranty
They have a large selection of sizes and styles
Cons
The selection may be too much for some consumers
---
Serta boasts on their website that they are the #1 American manufacturer of mattresses. They are assembled in the U.S.A and have won several awards for their mattress products including the Women's Choice Award for 2018-19.
They offer multiple other sleep products to accompany their mattresses and have a long-standing reputation founded on the perfect sleeper mattress
They offer free delivery and removal of old bedding and offer a 120-night in-home test of their mattresses.
Pros
Solid reputation in the industry
Offer a mattress you can order online for home delivery.
Offer a line to use on adjustable platforms.
Offer a large selection of sizes and styles to choose from.
Cons
May overwhelm some consumers with their selection options.
---
A relative newcomer to the industry but an innovator. They claim that they took the nightmare of buying a mattress and simplified it, and gave the mattress world a wakeup call.
They are a company that has green roots and manufactures their mattresses with this in mind. They have surpassed the clean air act for manufacturing and boast that they emit cleaner air than they started with.
They look to continue their innovative way of producing mattresses into the future and claim that customer comfort is their primary concern.
Pros
Delivery directly to your door.
A large selection of sizes
Produce their own bases including adjustable ones.
Free shipping and returns
Cons
Can't go to a store and lay on the mattress before purchase.
---
Tempurpedic went public in 2003 producing mattresses created from the foam designed for NASA flight seats. They boast that they are the most highly recommended bed in America.
The boast a 95% satisfaction rating and continue to develop new innovative designs and styles, and also have a wide selection of sleep products to accompany their mattresses.
Pros
Relatively long history in the business
Innovators in memory foam use
Large selection of sizes and styles.
Cons
Most of their products are only available in retail stores.
---
Bill Bradley was the innovator behind Bed in a Box the first mattress designed to arrive at your door, and yes it was compressed into a box.
This was in 2007 that he began the quest to change the way you purchase a mattress and remove the retail storefront.
As is the case with many online shopping products available for purchase it took some time and other competitive products entering the market for this idea to take off.
Now they offer a full line of sizes and support levels, as well as other sleep orientated products.
Pros
Free shipping and returns
20-year warranty
120-night in home trial
Cons
You have to order the bed before you can try it.
---
Purple manufactures just two mattresses, but they are unique when compared with other memory foam mattresses.
They use a purple open grid gel layer that offers support and pressure relief for side sleepers. The open grid allows for comfort and cooling and they claim won't fall victim of a body imprint like a standard memory foam mattress can.
The mattresses are available in multiple sizes, but the original mattress has only one comfort support level to offer.
They do offer other products to add to the comfort of their customers and are, as they claim the mattress that broke the internet due to the volume of their sales.
Pros
The limited selection so no confusion for customers
10-year warranty
100 night in home trial
Free shipping and returns
Cons
Selection may be too limited for some
---
Casper is an innovator in the mattress delivered to your door realm. They boast that they have sold over 1million mattresses and this is due to their mattresses being meticulous designs and ridiculously comfortable.
Founded in 2014 Casper is taking a slightly different approach to the retail of their mattresses by opening popup storefront to retail their products as well as online sales. In doing this, they will allow potential customers the opportunity to try a mattress in store before purchase.
They have also partnered with Target to provide their products to consumers who don't want to order online, and they retail through Amazon as well.
Pros
Limited selection of styles
Free in-home trial for 100 nights
Free shipping and returns
10-year warranty
Cons
Hard to tell if the leap to storefront retail has affected the price of their products.
---
The innovator that created the pocketed inner coil mattress in 1925, and they continue to create innovative new mattresses. They offer a large selection of styles and designs and multiple configurations of support systems in their mattresses. Hybrid, inner coil, or memory foam if you are looking they have an option for you.
A long standard in the mattress industry they continue to move forward to provide their customers with the best possible quality of sleep.
Pros
A long history and solid reputation
A warranty of 5-25 years depending on the product
Cons
Such a large selection and variety of options a customer could easily feel confused as o the best choice.
---
Thirty years ago the innovators at sleep number decided to create their revolutionary mattress on the idea that everyone doesn't like the same firmness in a mattress. They may have started in 1992 with a small kiosk in a mall, but today they have retail stores nationwide.
This is a unique mattress in the realm of mattresses. This mattress features adjustable air and a comfort layer that rides on top to create a mattress like no other.
You can fully adjust the air pressure in each half of the bed, and they have models that are designed to be used on adjustable frames so you can raise or lower the head or foot.
Pros
Unique air bed concept
Many additional features to these mattresses
Can try one out in a store
Offer a 25-year warranty
Cons
Can be on the more expensive side for a mattress
---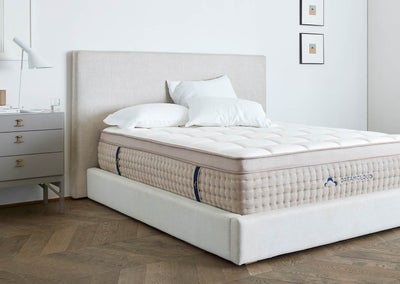 This is a product line of Nectar manufacturing. The Dreamcloud Line is the first full 15" mattress to be home delivered for around $2000.00 less than some competitors.
This was Nectars idea with this line to offer luxury that anyone could afford. In a single year, Nectar became the fastest growing E-commerce business. They began in 2016 based in San Mateo Ca. and the retail in the U.S. and United Kingdom.
They offer an innovative idea with Dreamcloud in that they offer a 365 day in home trial and what they call a forever warranty.
Pros
Their warranty is longest in the industry
Offer the longest in-home trial in a 1year trial
Maybe more affordable than other mattresses of the same quality
Cons
A very limited line of mattresses
---
Conclusion
Some of the big players in the industry have had to redefine their thinking and their retail outlook to keep pace with the online sales of these new mattress brands that have emerged in the industry.
One thing is becoming obvious that the selection of a mattress is a personal choice and people like having multiple choices of not just products but how they can purchase these items.
There is a new clientele in the marketplace today that does a majority of their retail buying online so the mattress giants of old will need to continue to innovate to stay competitive in this market.